This bosal set is finely braided in black and white kangaroo with intricate interweave patterns. The headstall has no hardware, is completely adjustable and removable from the bosal and has a very unique configuration. The black mane hair mecate has braided buttons and a fancy popper to match the set.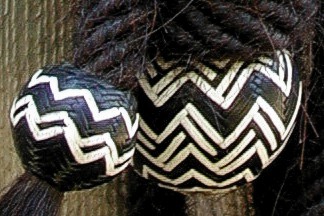 Close-up of the heel knot and matching button on the mecate show the repeated intricate patterns used in this set.
Sold to a private collection.
View page 2 for more photos
of this braided set.